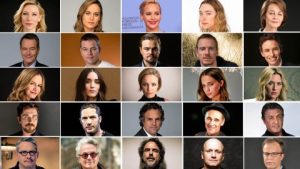 There are many facial clues to personality and behavioural traits. Over 30 years of study and practice in reading faces leaves me in no doubt that we can gain deep insights through clear and skilled observation. Learning to read the clues accurately can assist us greatly in any interpersonal engagement. It is an invaluable skill when used in HR, recruitment, sales and negotiation.
Here are 5 commonly seen facial features and what they mean:
1 – Vertical line between the eyebrows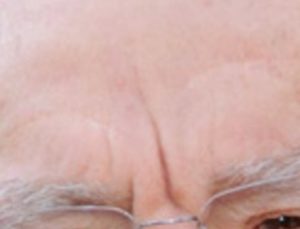 A single clear and distinct vertical line rising from between the eyebrows has a number of particular meanings. It indicates that the individual is likely to have a lifelong challenge of managing their blood-sugar levels. Failure to do so will result in hypoglycaemia (low blood-sugar), which in turn leads to mood swings, irritability, and fluctuating performance levels. Such an individual is also likely to have distinct perfectionist traits, and be highly self-critical, all of which can impact on both personal and professional relationships. If you're negotiating with this person try to make sure they have eaten beforehand so that their blood-sugar levels are stable! A particularly long line is associated with a ruthless streak!
Example: Rupert Murdoch
2- The Unibrow

It has traditionally been said that one should never trust someone with a unibrow – also known as a monobrow. It is more likely that they will be slow to trust others, and will tend to remember real or perceived slights for a long time. They tend to have overactive minds, to the extent of frequently suffering from insomnia. Learning to relax is a huge challenge for them. Stubbornness is another typical trait, and they can become quite attached to fixed ideas.
Examples: Ronnie O'Sullivan, Noel Gallagher
3- Eyebrows angled downwards

Eyebrows – especially the one on the right – which are angled down towards the nose, or shaped like an inverted V are associated with an autocratic personality. These people have very strong views, will express them with passion and expect to be obeyed. They will be quite direct in challenging others and tend only to be aware afterwards of the emotional impact their behaviour has on others. When dealing with such individuals you will need to have your preparation done and be willing to stand up for your views.
Examples: Steve Jobs, Tony Blair
4 – Triangular Shaped Nose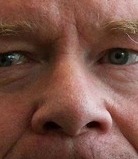 A triangular shaped nose is indicative of someone who prefers to formulate their ideas alone before conferring with colleagues. Having thought things through in depth they will not usually be easily swayed from their views. They also tend to build up momentum as a project takes off and can be, and be seen as a major driving force.
Example: Martin McGuinness
5 – The Fleshy Mound
This refers to a three dimensional fleshy mound between the lower lip and the chin. It may be seen as being like a pressure valve. Such individuals tend to have very high energy levels and need to let off steam when the levels become too high. This frequently manifests itself in bursts of childish and unpredictable behaviour, even to the point of being self-destructive eg over indulgence in alcohol, drugs, gambling or sex. One U.S. face reader has referred to this feature as a 'macho knob', and such individuals generally like to demonstrate their manliness – at least as they see it. They tend to expect to be liked.
Examples: Donald J. Trump, Donald Trump Jr.
This is just a few examples of key facial features and their meaning. I'll be sharing more in future articles.
If you liked this article please share it.
Joseph McGuire is the owner of Clearsight Communications who provide personal evaluation services and training in the areas of senior level recruitment/promotion, negotiations, sales and HR. Individual consultation sessions are available both in person and via Skype. He is also in demand for group presentations, private functions and conferences. For further information email: info@clearsightcommunications.com