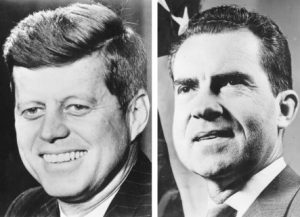 Even in this hi-tech world our faces are an integral part of our brand. Those we meet form impressions of us in micro-seconds. As part of my profession I assess people based on their facial features, micro-expressions and their body language. I do this to help clients make clear and informed decisions about who they hire and who they're doing business with. Often I don't have the opportunity to sit across from someone so I must form a detailed and accurate impression of their personality and behaviour style from their photograph. This might sound impossible but you can tell a great deal about someone from their photo.
Instinctively and historically we have tended to associate particular features with leadership and trustworthiness. A classic example of this came in the U.S. presidential campaign of 1960. This was the first time the candidates were shown debating live on TV. John F. Kennedy recognised the power of the medium and was amenable to the requests of the studio people, including wearing makeup. Richard Nixon in contrast was ill, wasn't taking his medication, and refused to wear makeup, on the grounds that it was unmanly! (Anyone appearing on TV nowadays will know the importance of makeup.) During the debate Nixon perspired and looked unshaven, whereas Kennedy appeared youthful, relaxed and energetic. The TV debate was regarded as being a decisive factor in a close run election. Interestingly a survey of radio listeners made Nixon a clear winner of the debate. A clear case of pictures painting a thousand words!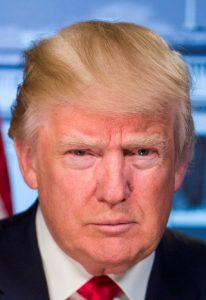 More recently Donald Trump became the 45th POTUS. Over many years he has crafted a public image of himself as a powerful, decisive and no-nonsense business leader, with exaggerated body language to match. This image helped to impress a high enough percentage of the electoral college for him to be elected. A closer look at his facial features provides a much more detailed profile of his personality. Trump has a relatively square face, which the Chinese refer to as an Iron face – a trait he shared with Winston Churchill. This shape is associated with great stamina, a very strong will, and a tendency to rely on strong instincts – which are often accurate. His bone structure is strong, and coupled with his large nose indicates that he will be an imposing personality with very strong drives – He will invariably speak his mind. The dip at the bridge of the nose shows his lack of patience with meetings.
His eyes are usually narrowed, and where this is not as a consequence of visual impairment it is a likely sign of a calculating personality. (NB – Ultimately the eyes are the most important part of Face Reading. In western culture making eye contact is important, and we should pay close attention to the message we get from the eyes. In the case of Donald Trump there is very rarely any warmth evident, so we can be clear that he acts primarily in his own interests.)The thick upper eyelid folds are a sign of a large ego. The left eyelid fold is noticeably thicker, meaning that his ego will be more pronounced in his private life. The inner angle of the left eye is more acute than the right eye, so his temper will be quite evident to those living with him. The 3-dimensional fleshy bump on his chin is associated with bursts of impulsive, unpredictable and even childish behaviour which will frequently be a means of demonstrating his macho side.
In our increasingly busy world we can become accustomed to brief glances, leading to what psychologists refer to as 'inattentional blindness'. It pays to take a little more time and care to see the details and discover who we're really dealing with and prepare accordingly.
ABOUT THE AUTHOR
Joseph McGuire is the owner of Clearsight Communications who provide personal evaluation services and training in the areas of senior level recruitment/promotion, negotiations, sales and HR. Individual consultation sessions are available both in person and via Skype. He is also in demand for group presentations, private functions and conferences. For further information email: info@clearsightcommunications.com