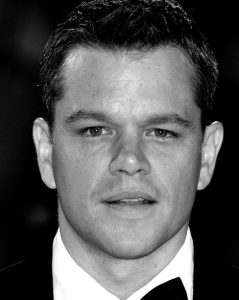 (This is the latest in a series of celebrity profiles)
Everybody is interesting if we take the time to discover. Matt Damon though has a particularly interesting face with many contrasts. The right side of the individuals face reveals their public persona, and their left side their private persona. With Damon we can see distinct differences between both sides. This reflects that his public and private personas can be quite different, and this allows him to look at life from a variety of perspectives.
His hairline comes almost to a V-shape. In men we associate this with a capacity to solve complex problems quickly. In Damon's case the V is not absolutely clearly defined. This suggests that his mid-teens were quite a challenging time for him – not that that is unusual – and that his creative abilities felt stymied.
His high forehead indicates he is someone who needs a great deal of mental stimulation to feed his creative juices. Boredom is not an option! His eyebrows are at different heights, which again suggests different public and private perspectives. The right eyebrow sits higher than the left, and if anything his right eye is more open. This indicates he is quite comfortable in the spotlight although, as his gaze is questioning, we see that he is not easily impressed by fame and all that comes with it. Early professional success with Ben Affleck in 'Good Will Hunting' may have allowed him to peek behind the curtain and view the wizard for what he is!
His left eye being less open reflects the fact that challenges in his personal life have caused him to develop a strong protective core. This will be extended to family and those close to him. His long eyebrows reflect the importance of family in his life. The left eye angles slightly downwards at the outside corner telling us that he feels a strong bond with those less privileged.
His nose is triangular in shape, with a horizontal line across the bridge. The line shows that he is conscientious and takes his responsibilities seriously. The bridge of his nose dips slightly. He prefers to put a shape on his ideas before conferring with others. Once he has clarified what he wants he can really build up momentum, and as he sees things coming together his energy levels and enthusiasm can skyrocket.
His mouth is slightly wavy and a little higher on the left. The waviness can be associated with variable judgement – he has made some dodgy choices in his film roles – and the slight tilt to the left reflects strongly held private views.
His jaw is noticeably wider on the right. This reflects both the determination and energy he brings to all public activities, but also the need for regular stimulating physical activity. This is something he will neglect at his peril as he would become quite frustrated with himself and this in turn could easily spread into close relationships!
His chin is not especially prominent in the overall context of his face. It is rounded and juts out a little. His ideals are very important to him, and it is natural for him to be supportive of causes. He will do best when he engages his brainpower rather than trying to force his ideas through with physical strength.
The notch behind the tragus (flap of cartilage) of his left ear is quite open, revealing his generosity to those closest to him. The anti-helix (inner rim) of both ears is prominent. This tells us that he will always be a man with definite views of his own, even if they don't match with mainstream opinion.
Joseph McGuire is the owner of Clearsight Communications who provide personal evaluation services and training in the areas of senior level recruitment/promotion, negotiations, sales and HR. Individual consultation sessions are available both in person and via Skype. He is also in demand for group presentations, private functions and conferences. For further information email: info@clearsightcommunications.com